The Brazilian Plus Size Model, Marlucia Felix, 33, participated in the Melange Fashion Show in San Francisco, California, USA. Parading with a beautiful dress exclusive to the Brazilian designer Kiko Arantes. The event that defies the standards of the fashion industry, featuring models from 18 to 67 years and of all heights, sizes and social classes, is a promotion of Human Rights and diversity so much talked about but little put into practice in the fashion world. The event hosted stylists, models, celebrities and guests who traveled from Brazil, France, Peru, New York and Los Angeles to participate in Mélange 2013.
The parade featured four pieces by famous French designer Jean Paul Gaultier, which were delivered by the brand's artistic director and UNESCO's representative for Peace, Guila Clara Kessous. Guila is also a member of the Mélange Productions Advisory Board, and she debuted her new collection of her own branded bags, Le Tanneur.
Sephora makeup brand was responsible for makeup of the 100 models participating in the event, 7×7 Magazine, Couture Press, UTI Network and other sponsors have teamed up to support the show's mission to celebrate diversity and human rights.
Dericka Porter, CEO of Couture Press and executive producer of Mélange 2013, invited two famous designers who traveled from Los Angeles to participate in the show: Kouture Punk, which produces clothes for famous singers Nicki Minaj and Mick Jagger, and Glynneth B Joias, who Has worked with Britney Spears, Christina Aguilera, and more. These two great designers participated in this party alongside local and international designers, including Eric Tibusch of France. The parades were mixed with singing and dancing performances at night, including a performance by Aurelia Khazan, an award-winning singer and actress at the Cannes Film Festival.
The show ended with the Jean Paul Gaultier parade modeled after a transgender star from AsiaSF, a famous 52-year-old model teacher and two gorgeous African-American professional models. Then premieres a number of the transgender group by AsiaSF, choreographed by Ronnie Reddick. Ronnie has worked with artists such as Michael and Janet Jackson, Paula Abdul, and RuPaul and also with several companies such as Gap, Macy, MAC Live Glam Cosmetics, Nordstrom and Starbucks.
This year, UTI TV Network presented live Mélange 2013. The only Brazilian model that lives in Brazil to participate in this great event was run by MF Models Plus Size.
Gallery
Beautiful Plus Size Models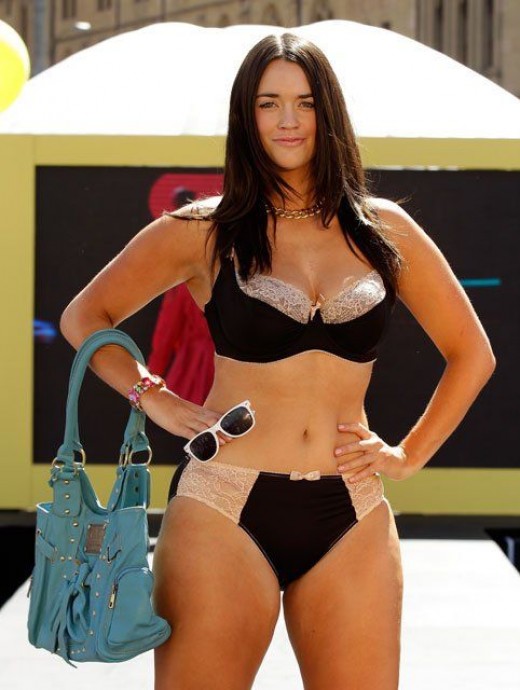 Source: hubpages.com
Popular Bikinis for Large Breasted Women-Buy Cheap Bikinis …
Source: www.aliexpress.com
1000+ images about Fine Brazilian Women on Pinterest …
Source: www.pinterest.com
Straight/Curve documentary reveals fashion industry …
Source: www.dailymail.co.uk
Suzy Cortez | Wiki & Bio
Source: everipedia.org
422 best images about Juliana Salimeni on Pinterest …
Source: www.pinterest.com
Mini Bikini Gold-Bikini Online-Cup-Band-Swimwear-Brazilian …
Source: www.mirtylla.com
Tops with bottoms HOLA VERANO
Source: www.brazilian-swimwear.co.uk
Sauvage Yellow Gypsy Bikini Set
Source: www.bikiniluxe.com
Plus Size Acqua Rosa Brazilian Bikini
Source: www.pinterest.com
1000+ images about Maria. on Pinterest
Source: www.pinterest.com
Priscilla Marinho walks the catwalk at Miami Fashion Week …
Source: www.dailymail.co.uk
Ness Lingerie
Source: www.flickr.com
I'll never squeeze into these! Huge star Nikki Blonsky …
Source: www.dailymail.co.uk
Model Photos: Elisandra Tomacheski Venus Swimwear
Source: model-photos-modeling.blogspot.com
High Waist Swimwear see-through short sleeve Swimsuit …
Source: www.stylishntrendier.com
Amanda Santana | I LOVE REAL WOMEN 2
Source: pinterest.com
Cleo Fernandes Hot Brazilian Plus size models Sexy Photo …
Source: www.ssmusic.in
59 best NICE BOOTY images on Pinterest
Source: www.pinterest.com
Plus Size Hot Models
Source: www.pinterest.com
Brazilian Plus Size Model